Well its that time again, and its my birthday -.-
Ok well lets see..not much really happened this month, alot of the LS' events got scrubbed cause alot of our BLMs quit the game. As a result I have taken the time to level up my BLU and so far I am doing well at 61.
So what post 60 like? Glad you asked...
this is the result of a /thf 60 BLU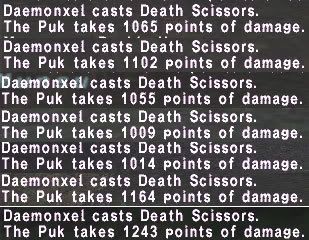 As you can see it can be a dmg powerhouse. This damage was achieved at pt range 160-210 Chain affinity sneak attack. I find that if you go beyond that tp range the dmg spike falls a bit. Also noticed that Sickle Slash when done with a SA is more acc based than STR. So if I throw up my str build (which is currently 50+40) I can hit for around 250ish but if I leave my acc build up I hit for 290+.
We did do some jailers a weekend ago and unfortunetly I only got SS of one but here it is.
No torque but we did get the virtue.
well until next update I will leave you with the conver of the month.
PS. he was talking about his chocobo